Marple Rifle and Pistol Club (MRPC), is a target shooting club in Marple, near Stockport and Manchester in the UK. This page gives a brief introduction to the Club, a private, members only, target shooting club for all types and calibres of rifle and pistol. For more details on how to join, click on the How to visit the Club, or the Club Details links opposite; or telephone the club on 0161 427 9133 Monday to Friday inclusive, between the hours of 19:30 and 20:30 and ask to speak to a Range Officer. The Club is located in Marple, Stockport, Cheshire, near to the Derbyshire border and is close to the city of Manchester in the North-West of England in the UK: see Club Details how to join and costs. Please note that all payment must be by either credit or debit card as we do not take cash.


The club was founded in 1957 and has been in continuous operation ever since, it is thus one of the oldest members only, target shooting ranges in the Manchester area. It is affiliated to both the National Small-bore Rifle Association (NSRA) and the National Rifle Association (NRA). We also shoot Black Powder to the Muzzle Loaders Association of Great Britain (MLAGB) rules. It is open to anyone, both male and female who wish to take part in the sport of target shooting. The minimum age for full adult membership is 18 and for juniors 14, but see below for airgun shooting.


We have a 25 metre indoor range with a total of 10 firing points and can accommodate all types of target gun. Of these 10 firing points, 6 can be used in the standing position for fullbore carbine, fullbore pistol and Black Powder. Eight of the 10 firing points can be used by .22 rimfire rifles and carbines shot from a standing or kneeling position. All 10 firing points can be used for prone .22 rimfire rifle shooting and in addition sub-12ft/lb air rifles and 6ft/lb air pistols can be shot from any position. Originally opened as a .22 rimfire only range, we upgraded to centrefire (fullbore) in 1990 and unlimited calibre Black Powder shooting in 2004.


Additionally, we now have an outdoor airgun range with 6 positions for non-FAC airguns (both rifle and pistol). This range is to cater for Field Target shooting and can be shot from any position. The maximum distance is 40 metres.


In addition to indoor shooting at 25 metres, we can also shoot at 10, 15, 20 metres, 20 and 25 yards. We also have an electrically operated turning target system, which can be used at any of these distances so as to allow participation in timed fire events.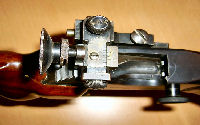 BSA Martini International MKII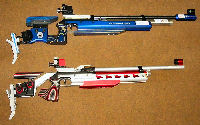 Feinwerkbau 10 metre Air Rifles
We also have an indoor, up to 12 firing point, 10-metre range for ISSF 4.5 mm airgun shooting (standing position only), equipped with automatic target changing mechanisms.


All indoor ranges and disciplines are open to wheelchair users and the club has dedicated wheelchair access and parking, but see the disabled section first, before applying to visit for the first time.


The club has access to the military ranges at Sealand near Chester for outdoors shooting at distances of between 100 and 300 metres. Members can also shoot at the NRA's Bisley ranges at Woking in Surrey.


Basic instruction is given to all new visitors at no cost: see How to visit the Club for more details.


An active program of competition shooting is followed at Club, Regional and National level and all members are encouraged to take part, however participation in competitive shooting is not mandatory.


Whilst we do not do Clay Pigeon shooting at the Club itself, as we do not have sufficient land, some of our members have formed up into an informal group and visit local shoots. You will thus have the opportunity to take part in Clay as well as paper target shooting.


Common gun calibres used by Club members indoors are: 4.5 mm (.177 inch) for airgun. 22 rimfire and centrefire calibres in 36, 38, 357 magnum, 9 mm, 44 magnum and 45 calibres for nitro cartridge shooting. Common centrefire rifle calibres for outdoor shooting are 223 (5.56 mm) and 308 (7.62 mm). Most calibres can be shot in either nitro, or black powder form and there is no upper limit to the maximum calibre of black powder guns that can be used on our indoor range, provided that the maximum muzzle velocity and energy limits are not exceeded.


For all further details, please call 0161 427 9133 between the hours of 19:30 and 20:30, Monday to Friday, or 10:00 and 11:00 on a Sunday and speak to one of the Range Officers. Please remember, we can only accommodate a maximum of two visitors at a time, see: How to visit Marple Rifle and Pistol Club for full details.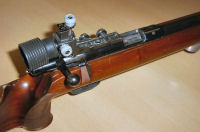 Anschutz .22 single shot target rifle
For all membership enquiries write to: membership
membership@marplerifleandpistolclub.org.uk
For all general enquiries about the Club write to: enquiries
enquiries@marplerifleandpistolclub.org.uk

Telephone contact: 0161 427 9133 between 19:30 and 20:30 Monday to Friday (If telephoning from outside the UK: +44 161 427 9133).
Geographical note: Marple and Stockport are located in the county of Cheshire, England in the United Kingdom of Great Britain and Northern Ireland, however between 1974 and 1986 they were incorporated into the county of Greater Manchester. This was an administrative arrangement rather than a geographical one and has now been abandoned.
Marple is 5 miles from Stockport town centre and 12 miles to the south-east of Manchester, England, in the United Kingdom of Great Britain and Northern Ireland.
Marple Rifle and Pistol Club trades as: Marple Target Sports Centre.
Please note that all payment for goods or services must be by either credit or debit card, as we do not take cash.
---
Site optimised for a 1280 x 1024 screen, using Internet Explorer, Google Chrome or Microsoft Edge and with the text size set to Medium in the View menu.
The spelling, date and currency conventions used throughout this website are those of the UK.
There are no cookies, or spyware or advertising of any kind on this website.
Please report any broken links, errors, spelling mistakes, as well as any suggestions for additions and improvements to this website, to the above email address.
Website first opened: Saturday, 01 April 2000
This page was last updated on: Monday, 13 November 2023
© Copyright for the entire website is held by the Secretary of Marple Rifle and Pistol Club

---