Fitted case for a Feinwerkbau P70
These two photos show a high quality home-made carrying case for a Feinwerkbau P70 (although the case could be adapted for any rifle that would fit within its overall dimensions). The intention is to allow secure transport for the equipment and to keep it safe from damage due to knocks. The case is made from plywood with brass fittings and is lined with closed-cell plastic foam which has been cut out so as to offer secure transport for the gun and its accessories. Seen in the case are a spare air cylinder, the adjustable butt piece and the sights, which are transported off the gun. These cases are minor works of the cabinet makers art and are far harder to construct in a pleasing manner than might be supposed, which is why the majority of shooters buy ready-made plastic carrying cases. As a matter of fact, the blue "Feinwerkbau" sticker, should really be green, but no one has ever commented!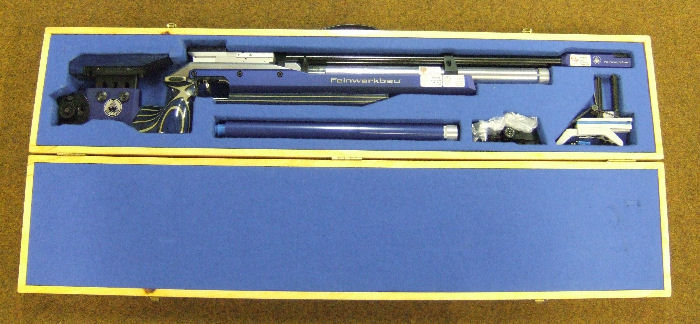 Feinwerkbau P70 in its carrying case.


Closed carrying case for Feinwerkbau air rifle.